On Sunday we went to Slovakia. First stop at the gas station near the Polish-Slovak border to buy a vignette. It is required to drive Slovak highways.
Next we moved in the direction of Poprad where we arrived at the noon. We did some grocery shopping and took dinner in the restaurant Utopia. We chose that restaurant based on the recommendations from Foursquare app. Recommendation was justified – they have a very good pizza. The décor is quite unusual – eg. you can eat while sitting on the beds.
The main tourist attraction, which we wanted to see this day was Spis Castle. The ruins of the castle are located 50 km east of Poprad. Driving passes quickly due to long distance taken by highway. However we noticed some error in car navigation that wanted us to use highway part that is under construction. We needed to change route and use local road leading through Lewocza (very charming town) and continue in the direction of Spišské Podhradie.
Access to the ruins is a dirt road and the ruins are located on the hill. Road was covered with ice and snow and we were not able to enter the top of hill by the car – it was opportunity to take a walk. At the top we found a beautiful castle ruins and the museum. Unfortunately, in the winter the museum was closed.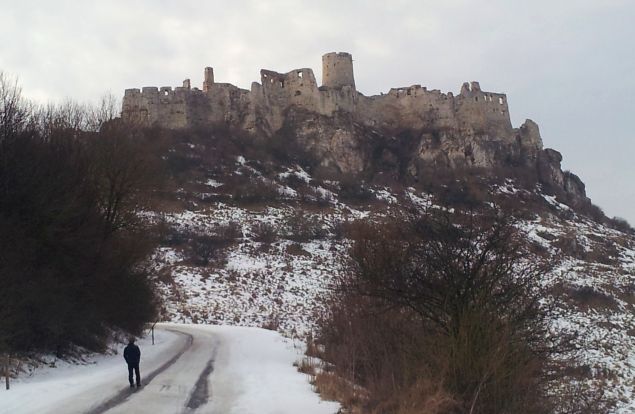 Ruins are amazing. This is one of the largest castle ruins in Central Europe. The whole property is 4ha, part of it is adapted into a museum. The property is inscribed on the UNESCO World Heritage Site.
On the evening we went back to Poprad, where we had the first night in Slovakia.