First week of holidays we spent at the Polish seaside, so the journey began from Pomerania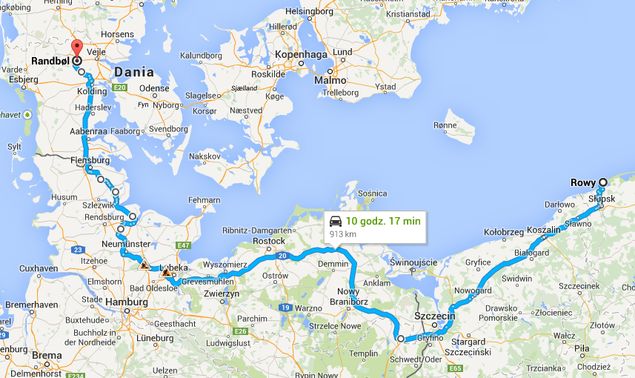 Journey to Denmark
We started our journey on Saturday morning. First part was the Polish national road No. 6 up to the border crossing in Kołbaskowo. This is mostly narrow road, one lane in each direction.
Before leaving the country we stopped for breakfast at McDonald's in Goleniow, then quickly crossed the border. The rest of the way as planned is a highway No. 20 in German to Lübeck, and then 7 to Flensburg.
There were no surprises until we arrived to Schleswig. We hit traffic jam on highway. We noticed that there is big music festival nearby and highway bandwidth seems to be too small. According to radio information it was over 30km long which meant several extra hours spent in  traffic jam. After a quick analysis of the situation we decided to detour using local roads to avoid waiting.
That's how we extended the tour making our trip from originally planned nine hours to over 11. We drove through Kiel and Eckernförde. By the way  we hit a historic drawbridge Lindaunisbrücke.
From Flensburg we drove through the border crossing with Denmark, Kupfermühle Kruså and continue on highway E45 to Kolding.
Overnight we planned at campsite located near Billund, in Randbøl. With Kolding local roads we traveled the shortest route to destination.
We arrived after almost 14 hours spent on the road. How we survived the trip? Very good. This bodes well for the next days of our holiday road trip.
Practical information
The speed limit
Poland
urban: 50 km/h
rural: 90 km/h
speedways 100-120 km / h (depending on the number of lanes)
highway 140 km / h
Germany
urban: 50 km/h
rural: 100 km/h
highway: no limits (with recommendation of 130 km / h)
Denmark
urban: 50 km/h
rural: 80 km/h
highway: 110-130 km/h